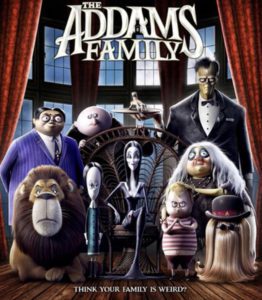 October 16, 2020 – The Addams Family: Movie will begin at dusk, Gates will open at 5:00 P.M.
Tickets will be sold online only to secure a drive in parking space. We have a limited number of spaces. This ticket is for the Drive-In car spot only. You can purchase tickets the day of for chair and blanket seating at the farm for $10 per person, ages 2 and under are free.
Per person Adult (ages 12 – up) $9; Children (ages 3-11) – $5; Ages 2 and under are free.
When placing your order online, please do one order per car as we have limited spacing.
To attempt to create safe social distancing, we will have designated car viewing. This practice reduces the number of spots available, so please keep in mind that people that arrive together in the same vehicle must stay together.
Vehicles can be backed into spaces and viewed from truck beds. If you have a hatchback, please keep it no higher than your rooftop. Vehicle parking will be staggered for best viewing.
Our play area and corn maze will be open and once parked in your designated Drive-In Parking Spot, you may purchase a Stay & Play Wristband for an addition $1 per adult and $5 per child at the ticket booth. THESE TICKETS ARE FOR DRIVE-IN PARKING SPACES ONLY and does not include the play area and corn maze admission unless you purchase the Stay & Play Wristband once checked in and parked in your designated parking space for the movie. If you would like to watch from a chair or blanket inside the play area, please purchase the Flashlight Friday ticket only.
If you are in the car viewing area, you must stay in or around your vehicle while the movie is playing to ensure social distancing.
Concessions will be available and will be cash only. We can't wait to see you at the Drive-In on the Farm!
Location Info
Drive-In Movie on the Farm- The Addams Family October 16, 2020